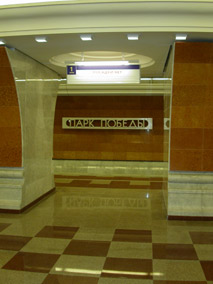 Moscow has welcomed its 165th metro station, Park Pobedy (Victory Park). The opening ceremony, timed to coincide with 58th anniversary of victory in the Great Patriotic War of 1941-1945, was attended by Moscow Mayor Yuri Luzhkov, members of the Moscow Government, deputies of the city council headed by Chairman Vladimir Platonov, the metro chief Dmitry Gayev, war veterans, and media people.
Addressing the gathering, Mayor Luzhkov pointed out that the new station was being commissioned on the eve of Victory Day to make it easier for war veterans and all city residents to reach the Poklonnaya Gora Hill, a place sacred to the entire nation. "The station is majestic," he said, "worthy of the memory of our war heroes." Mr. Luzhkov promised that the city government would budget the building of new metro lines and persuade federal authorities that Moscow needed them badly. "The building of new metro lines must never be stopped," he stressed. "This is our only possibility of relieving ground-passenger transport."
In the near future new lines will be built from the Park Pobedy Station. The city development programme for the next four years provides for some twenty new metro stations and 40 kilometres of lines.